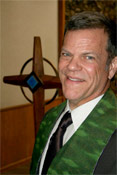 We invite you to worship with our faith community as we strive to discover God's direction for our lives. We encourage searching minds and spirits as we celebrate together our faith in God, Jesus Christ, and the Holy Spirit, through the guidance of the Holy Scriptures. Emphasizing individual choice and conviction, members follow the Word of God according to the dictates of their own consciences.
Pastor Donald B. Shenk
Pastor Shenk's Reflections

Sunday Worship
10 a.m.
Communion Every First Sunday


Avoid Panic in the Pew


Our Worship Style


Childrens' Worship


Adult Education


More About the UCC


How to Find Us


Our Campus

WE NEED YOU!
Anyone who has ever participated in a service project knows you feel great about serving but also, they can be a great deal of fun! Fruit picks make everyone happy: homeowners get rid of produce they can't begin to utilize, the pick team gets a workout, lots of laughs, a promise of being done by noon AND best of all, the fruits of our labor go immediately to a food bank where hungry people can get access to them. Everyone's a winner. Get first Saturdays on your calendar and think about how we can get food moving forward in our community.
Food Forward is a volunteer powered grassroots group of Angelinos who care about reconnecting to our food system and making change around urban hunger. Their mission is to rescue fresh local produce that would otherwise go to waste, connecting this abundance with people in need, and inspiring others to do the same. We partner with Food Forward to convene at properties we have been invited to and harvest their excess fruits and vegetables, donating 100% to local food pantries across southern California. Combined, our numerous distribution partners provide food to over 40,000 clients a month across Southern California. Since forming in 2009, Food Forward has harvested hundreds of properties with 100% of what is picked going to feed the hungry.


La Casa is currently in need of these particular items:
• small bags of beans and rice
• tuna and other canned proteins
• paper bags with handles
LIZ CAMERON FOOD PANTRY
Keep on bringing the food!
Everyday, children and their families go hungry, right here in our own community. By supporting our neighborhood food bank at La Casa by donating food items to our food pantry, you are helping to solve this problem! Food donations go directly to families who otherwise might not have enough to eat.