POINSETTIAS
Make Your Dedications BY DECEMBER 20th


We invite you to help provide the colorful display of poinsettias for our Christmas Sunday and Christmas Eve services. The price of the poinsettias is $10.00 each.  If you like, you may have your donation be listed as honoring a living person or in memory of someone special who has passed on.  All of these names will be listed in our Christmas bulletins. There will be donation forms available with Sunday bulletins, here in the Spire or you can go to our website for electronic submissions. Checks to the church can be dropped into the offering plate, mailed or left in the church office up to December 20th. Note poinsettias on your check.
Following the worship service on Christmas Eve, donors may take the plants home or deliver them to their friends and neighbors.  If you won't be at the Christmas Eve service, please choose judiciously from the arrangement after the morning service.

CLICK HERE TO DOWNLOAD THE FORM.
NEW MISSION PROJECT

From the Moderator
Dear Friends,
We are introducing a new Mission Project brought to us by Susan Jakubowski.  We will be supplying brown paper bags of appropriate items to the San Marino Police Department to distribute to homeless people they find in town while doing their rounds.  We would like to "fund" this project through donations of the needed items, with the Mission Budget as our backup.  There will be a yellow list of the items needed in the Narthex on one of the benches.  We will put these bags together the same Tuesday we make the lunch bags for Union Station.  Thanks as always for helping us help others.
Blessings,
Pat
We need the following items:
Cases of 16-oz. bottled water
Packages of 50 LARGE brown lunch bags
Bumblebee Tuna on the Run 
Granola Bars (30-50 in a box)
Applesauce or Fruit Bowls (30-50 in a box)
Trail Mix/Peanuts (30-50 in a box)
Cereal Bars (30-50 in a box)
Men's and Women's Regular White Athletic
Socks (6-12 pairs in a package)

spirit & the screen
saturday, DECEMBER 9th
Party Time
2017—what a year! In these troubling times, we need a little Christmas. If not right this very minute, then at least really soon. It's past time for some festive fun for everyone! The Spirit and the Screen continues its legendary holiday tradition of family, friends, food, frolic, and… 'phants (as in "Elephants," that is, and white ones in particular). Mark your calendar for the night of Saturday, December 9th, at 5:00 p.m., and join us at the snuggly San Marino home of Councilwoman Susan Jakubowski. (Has a nice ring to it, doesn't it?) First, we'll start off with a pizza feast, and then we'll transition into the White Elephant Gift Exchange! Yes, because the original Christmas Story involves some Wise Guys who show up bearing seemingly bizarre and inappropriate gifts (Really—myrrh?!—like, dudes, you couldn't have brought some Pampers®?), we encourage you to show up with a beautifully wrapped item that you'll gleefully foist off on some mortified soul while the others in the room hoot and holler. It's a time for sharing, so bring along a festively attired friend to revel in this spectacularly popular evening. And because it really is a season of sharing and caring, bring a couple of bucks or some cans of appropriate food, and your donation will help stock the Liz Cameron Food Pantry and benefit those less fortunate in our global community. Who knows? Maybe there will even be a little something to watch to make us all laugh and/or think. RSVP to Susan by Thursday night, December 7th, at susanjinla@sbcglobal.net if you have questions or need directions—but most importantly so that we can be sure to have a place for you at an event that's usually standing-room only. The evening promises to be family-friendly. Come join us on the 9th!
Follow these 8 simple steps for the Ultimate Spirit & the Screen Holiday Gift Package:


1. Let Susan J. know that you'll be coming to her home on 12/9/17. (That's so that we'll have an accurate head count.) Thursday night, December the 7th, is the cut-off for response. Don't be left standing outside, wailing and gnashing your teeth, your sorrowful face pressed up against the window like the Little Match Girl as the tears freeze to your face while you witness the joy and laughter inside. (Don't you hate it when that happens?)
2. Invite a friend. (Go back to Step #1 for that whole accurate-head-count thing.) Please be warned that this event promises to be standing-room only!
3. In the coming days, find a White Elephant gift in your home and wrap it up all nice and pretty. (Remember, it's something new/unused that you're willing to give away. We don't want you to go out and buy anything, though. Don't bring anything that would put you on the ATF watch list, but be creative!)
4. Wear something festive on the 9th. (This is the perfect time to showcase that hideous sweater that your eccentric-but-fashion-challenged aunt gave you two years ago.)
5. Show up at Susan's home (contact her if you need directions) on Saturday, December 9th, at 5:00 p.m. SHARP-ish with your White Elephant (and friend, who should also have a White Elephant, of course).
6. No need to bring a dish to share, because pizza will be on hand. Easy!
7. However, bring some cans or packages of food or a couple of bucks to help stock the Liz Cameron Food Pantry. Nice!
8. Bask in the warm glow of fun, food, fellowship, and maybe even a special short feature.

Don't miss out, or Yule be sorry!

-Warren Scherffius

SECOND MONDAYS MUNCHIN' LUNCHEON
DECEMBER 11 @ nOON

FEED YOUR SPIRIT
…and your body. Join the Lunch Bunch.

The Lunch Bunch will be meeting at the Nano Café in Sierra Madre (322 W Sierra Madre Blvd, Sierra Madre, CA 91024) at noon on Monday, December 11, 2017.  All are invited to join us for this time of fellowship and fun as we munch together!

SPIRITUAL PRACTICES GROUP
Saturday, DECEMBER 23rd
Light for the Path
Everyone is welcome to join in this time of quiet, guided meditation, convening at 10:30 a.m. on December 23rd in the narthex and moving into the sanctuary.  Together, we light our candles and invoke the Spirit of Gentleness into our midst.  Come enjoy a quiet half hour for your soul in this special Christmas themed timed together.
All are invited to join us in this loving time.

leap of faith: ADULT BIBLE STUDY
nO LEAPING IN DECEMBER

LEAP OF FAITH WILL NOT HAVE A DECEMBER MEETING.
All are welcome!

CELEBRATE THE HOLIDAYS WITH A CHRISTMAS TEA
thursday, december 21st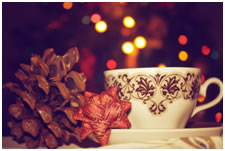 Oldknows to Host This Year's Soiree

A Wassailing we go to the Oldknow's for our traditional Christmas Tea this year. You are invited to bring a plate of treats to share. The Oldknows are looking forward to our get together and will provide your choice of tea, vino or soft drink.
The cozy home of Vivi and Gerry Oldknow is located at 2439 Coniston Place in San Marino, just a couple blocks north of the church.   This year's tea will be from 4:30-7pm on Thursday, December 21.
CHRISTMAS EVE SERVICES
SUNDAY, DECEMBER 24th
CHRISTMAS EVE
A Double Dose of Christmas Cheer
This year December 24th falls on a Sunday, which means we will have TWICE the opportunity to celebrate the birth of Christ! Sunday morning at 10am we will begin our time of celebration with a worship service and light the last of our Advent candles as we conclude our Advent illuminations signifying the waiting and longing for Christ's birth. Then on Christmas Eve night at 7pm we will worship again together with our traditional candle lighting service as we light the Christ candle and celebrate the birth of Jesus for whom we've been waiting. Come!
food forward
How You HAVE Helped!

Food Forward was recently awarded a commendation from the US Environmental Protection Agency, alongside myriad national food suppliers and purchasers like Wegmans, Disneyland, MGM Resorts and UC Davis, for the environmental impact resulting from our food recovery work in 2013-17.
One of the things we LOVE about [FF's] UCLA partnership is that it is manned and woman-ed by students who are feeding other students. What many people don?t realize is that there is a high percentage of students who experience food insecurity. Current estimates show this number to be roughly 20% at UCLA, with students choosing to buy books over food. Food Forward's program gives these folks a hand by creating an eco-system where the UCLA community can help its own who are struggling to make ends meet.
Watch for SMCC Picks
Watch your email for announcements on future picks with Food Forward. We look for available activities on the third Saturday morning of each month and will pass that info on to you so that you can join the effort. There is a quick registration on the Food Forward site that allows you to sign up for a pick of your choice and lets Pastor Donald know that he has volunteers. www.foodforward.org
THERE WILL BE NO FOOD FORWARD PICK IN DECEMBER.
SAVE THE DATE - SUNDAY, JANUARY 28, 2018

Annual Meeting
Everyone will want to join in our yearly ritual to memorialize the past year and look forward to the New Year in our January gathering for worship, meal and stories. Both our worship time and meeting will take place in Crist Fellowship Hall on Sunday, January 28, 2018 beginning at 10am.
Jesus-n-Justice
This year's winter camp theme explores Jesus as the ultimate activist. We invite all junior high and high school campers to join us on the mountain for a very fun and informative weekend retreat!
WHAT: A WEEKEND RETREAT FOR JUNIOR HIGH & HIGH SCHOOL CAMPERS
WHERE: PILGRIM PINES CAMP AND CONFERENCE CENTER
WHEN: JANUARY 12-15, 2018
TIME: CHECK IN AT 7 PM | PICK UP AT 10 AM
INVESTMENT: $190 CAMPER | $100 ADULT COUNSELOR
REGISTRATION LINK: https://goo.gl/forms/2mmWaCMtQshBeEex1


DID YOU KNOW that when you shop at AmazonSmile, Amazon donates 0.5% of the purchase price to San Marino Congregational Church UCC?
Bookmark this link!
Amazon Smile and support us every time you shop.